"Excellence is best seen in a crisis."   – Stephen A. Ruffa
Corporations today face uncertainty and crisis like never before.  Increasing competition, shifting customer expectations, and disruptive world events have shattered the marketplace and undermined once-straightforward management techniques.  Even once-unquestioned leaders find themselves in a terrible struggle, driven into financial turmoil or even bankruptcy. But a few firms remain strong, advancing amid the chaos that cripples their peers. What makes these different? How do they seemingly defy gravity, thriving amid circumstances that conventional wisdom dictates should drag them down? The answer is lean dynamics—a new, powerful yet unexpected system of management that is reshaping the rules for business.
(Excerpted from the book jacket of Going Lean.)
Learn how Going Lean can help your business, institution, or agency achieve powerful, lasting results!
Going Lean: How the Best Companies Apply Lean Manufacturing Principles to Shatter Uncertainty, Drive Innovation, and Maximize Profits (AMACOM, 2008)is a groundbreaking book, written by Shingo Prize winning author Stephen A. Ruffa, that explains how corporations across a range of industries sustain powerful results even in the most challenging conditions by applying the principles and practices of lean dynamics.
Drawing on the lessons of large and small companies across diverse industries, this book shows why the real challenge is correcting the underlying disconnects across operations, decision-making, information systems, and in creating innovation—the root causes for waste to occur. Recognizing this can help companies and government agencies regain their footing amid the dynamic circumstances that have engulfed the business world today.
What critics are saying:
"In this extremely well-written book… useful resource for those interested in operations management, business policy, and related topics."    – Choice
"With excellent timing… demonstrates how companies use lean principles to help them steer through tough times."    – Houston Business Review
"Going Lean should be read by manufacturing executives and their staffs… shows how to introduce innovation during downturns, strive for perfection, and deliver excellent performance."    – Quality Progress
"Stephen Ruffa's new book, titled Going Lean, is very timely. In this time of economic crisis when recession has plagued the world's economic arena, Going Lean teaches us how to live and adapt with change. This book is a must read."    – Six Sigma
"…unique and important insights into entering and sustaining–forever–a journey of waste reduction and continuous improvement."    – Cutting Tool Engineering
Purchase this book at most bookstores, or at your favorite online retailer:
Learn how to promote stability, consistency, and innovation and attain the workforce buy-in to create radical improvement.
The GOING LEAN Fieldbook: A Practical Guide to Lean Transformation and Sustainable Success (AMACOM) In Going Lean, author Stephen A. Ruffa introduced the groundbreaking principles of lean dynamics, revealing how leading companies go beyond chasing the most visible outcomes of lean methods to address the disconnects that cause operational waste to accumulate. Illustrated by compelling cases and clear examples, The Going Lean Fieldbook provides a logical structure and practical advice for applying lean principles throughout the organization.
Useful as a stand-alone implementation guide and as a training resource, the book maps out a path toward reaching a series of critical transformation levels, dealing with the activities and the hazards that can derail the journey at each point along the way. 
Read the book that started it all–how a team of aerospace professionals uncovered the secret to making lean work!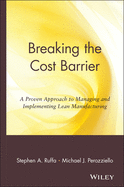 Breaking the Cost Barrier: A Proven Approach to Managing and Implementing Lean Manufacturing (Wiley) presents the results of the authors' global, world-wide study of aerospace manufacturing to learn from its widespread efforts in lean manufacturing, Six Sigma, and other business improvement efforts. Their findings–lauded by academics, practitioners, and leaders across the industry–prove that production variation, not the more common targets like inventory turns or even production cycle times, is the chief cause of escalating production costs.  More importantly, it reveals how companies can apply these findings to break what is rapidly becoming a new impediment to innovation and growth: the rapidly approaching cost barrier. 
Praise for Breaking the Cost Barrier:
"A great antidote to the pervasive 'kamikaze kaizen' campaigns going on across the industry."    – Dr. James P. Womack, Founder, Lean Enterprise Institute and coauthor of Lean Thinking and The Machine That Changed the World